Designing A Pet-Friendly Kitchen
It's no surprise to most people that we're a nation of animal lovers here in the USA. After all our pets are family right? Sixty-eight percent of U.S. households, or about 85 million families, own a pet, according to the 2017-2018 National Pet Owners Survey conducted by the American Pet Products Association (APPA). With those numbers in mind, it's no wonder that a growing concern for homeowners these days is how to design their kitchens, mud rooms or laundries in a way that suits their pets too.
Protecting Pets In Your Kitchen.
The trick to getting your pets and your home to exist in harmony is to plan everything out from the beginning as it's far easier to implement all of your ideas right from the start of your design process. Start off thinking small, and looking for what might pose the most danger to your pet such as foods that are heavily scented and edible ingredients that dogs just cant resist! Consider designs that have no handles as it makes it much harder to pets to get at what's raising their curiosity, keeping them safer from potentially hazardous substances like chocolate and coffee (…and we all know what curiosity did to the cat). Pantries and high shelving have similar advantages, and the height can even protect them from more agile animals like cats. When it comes to your appliances, consider induction cook tops that not only provide a whole host of advantages to you (being highly efficiency, amongst other things), but they also help keep your pets safe, too. Induction cook tops use an electromagnetic circuit so that they're only ever heating up when a pan is actually in contact with them – reducing the risk of your pet (or kids) burning themselves on open gas flames.
Don't Forget To Protect Your Kitchen From Your Pets!
Long lasting worktops are the main thing to consider when designing your new space. You'll want hard wearing materials such as granite or quartz that protect your work surfaces from excitable claws and padding feet. Your cat might not thank you, but you'll certainly thank yourself! You'll likely also want something that's relatively easy to clean, saving you time from having to constantly wipe them down. This same principle can also be applied to your kitchen cabinets. And something that is quite often forgotten about is considering the color scheme of your kitchen. It's an unfortunate fact of life that our lovable pets can be very messy, and if you've got a particularly large dog (or puppy), you might want to avoid an all-white kitchen or laundry. This doesn't mean that a contemporary design is off limits; but it's a good idea to consider in advance areas that will probably need cleaning on a regular basis. You don't want to spend all that time to invest in a brand-new kitchen only to have it always looking messy!
Pets are a big part of any family!
It'll All Come Out in The Wash
Laundries are so underrated. They are the forgotten workhorses of the home, but your laundry needs more thought than; "It'll all come out in the wash". A well designed and appointed laundry can be a big selling point for the house your about to design or build.
After the kitchen and master bathroom, the laundry is the most important room in the house, but it is often the most forgotten when it comes to the overall design of the home.
Don't underestimate the selling power of a well-designed and appointed laundry room.
There is no one way to plan this room, each home, and each family's needs are different. Apartments and homes with limited space generally have their washing machines in the kitchen, or find space in a closet area, rather than assigning an entire room for dirty clothes.
Whether you are building or rehabbing, these simple tips will help create a clever, functional space your home owner will be happy to use for years to come.
The 'must haves' for a functional laundry space:
Sink for hand washing, soaking and cleaning up all manner of things

Hanging space for additional drying options

Counter top space for folding

Cabinets for storage…upper and lower and as many as possible

Adequate space for medium to large washer and dryer

Closet for towels, brooms, and odds and ends

Access door to outside that also allows the laundry to double as a mud room

Adequate plumbing outlets positioned in the right location for your sink and washing machine

Plenty of power outlets
Organizing your laundry layout
The perfect laundry is a functional one. Creating a space that flows well and gets the job done will mean washing your clothes doesn't feel like a chore. Organizing the space can make the time spent in the laundry more enjoyable and make the task less tedious.
Trying to fit in a usable and functioning laundry to your floor plan can be difficult, however it doesn't have to be bigger to work better. When planning think 'work flow'; ensure that dirty laundry can go straight from the tub, to the washing machine, then through to drying and onto the counter top for folding.
By utilizing every piece of your walls and nooks you'll create space where you didn't even know you had it. Think vertically and use a combination of rails, shelves and baskets on your walls to store everything from detergents, clothes, your iron and even foods and accessories for your pets.
CABINETS
Custom cabinets can maximize organization and storage in the space you have. Design companies are seeing their customers increasingly renovating their laundries in conjunction with their kitchens, to create consistency throughout a house. Quality built-in cabinets will have your laundry space working efficiently and effectively, maximizing every inch of the room.
If you have space for it, consider putting in a drying bar or rack. Position a rod above the sink- not only will this help dry your delicates, but it will also enable you to hang freshly pressed or straight-out-of-the-dryer garments.
COUNTER TOPS & SORTING SPACE
I think we can all agree that folding and putting away washing is the WORST chore.
Although the focus of the laundry room is about dirty clothes, don't forget to find space for your clean clothes before they make their way back to the closet. Adding counter space so you can sort and fold the clean loads will make the 'chore' somewhat bearable, and a well-designed laundry should always incorporate adequate counter space. Like kitchens, the laundry requires room for all sorts of clothes preparation.
Consider brands like Silestone© or Caesarstone©; popular counter top choices due to their durability and wide range of stylish finishes that can integrate well with your kitchen or bathroom design.
Decor
Thinking about adding warmth to an otherwise cool room. This can easily be done by adding a splash of color with either paint, colorful counter top material, or designer appliances in vibrant colors.
Less is always best, so keep decor and decoration to a minimum. Use matching feature tiles and handles throughout the laundry, bathroom and even kitchen when planning your design for greater continuity.
Whilst the laundry is one of the least thought about rooms in the house, it is also the most practical room in the house, however that doesn't mean you can't enjoy the space and embrace snippets of style and character.
What's the best location for a laundry?
Laundries are often located near the back door of the house – often with the laundry sink situated right next to the door for convenient access. There are a couple of reasons for this, the most obvious being that it just makes it easier to take your washing out to a washing line.
Laundries near the back door can also act as a 'mud room', where dirty shoes and clothes can be dealt with before they're dragged around the rest of the house.
Your laundry doesn't necessarily have to be located near the back door. Depending on the size and layout of your house, it might make more sense to locate your laundry in a more convenient spot.
To keep plumbing to a minimum and for the sake of energy efficiency, laundries are usually also located somewhere near your hot water system, and for the same reason, possibly close to your kitchen and perhaps also a bathroom - both of which also require a fair bit of plumbing. The proximity also helps to reduce costs.
Likewise, when you're planning your storage, you'll need to consider how 'safe' that storage is. Laundry chemicals can be quite dangerous, and if you've got small kids or pets it's best to make sure you've got somewhere inaccessible to store them.
Adequate ventilation is also very important. If you have a dryer, it should be vented directly, preferably to the outside of your home. Where possible an exhaust fan in the laundry may also help to prevent moisture and humidity from building up and reduce the chance that you'll end up with mold on your walls.
Happy Laundry Days!
AMAZING HOME BUILT FROM 31 SHIPPING CONTAINERS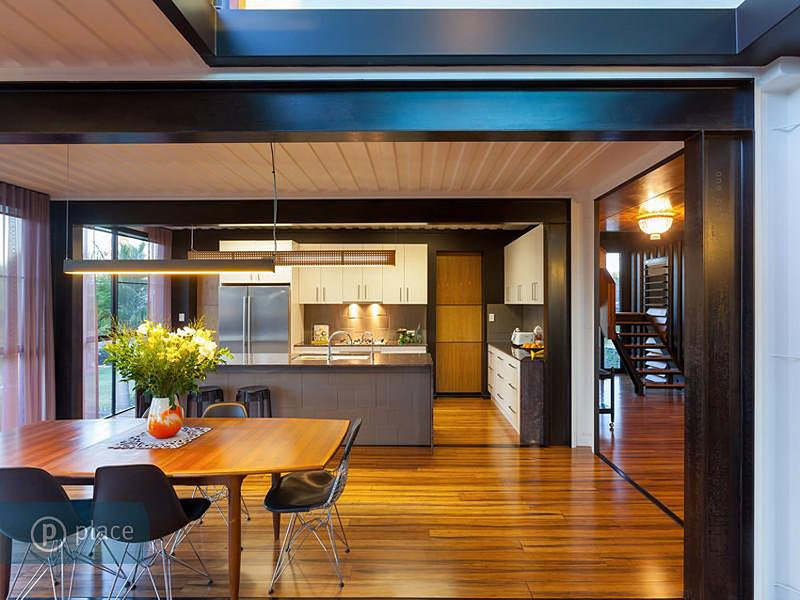 WOW! JUST WOW!
It's been my dream for many years to build a home from shipping containers. Well I can only dream of constructing something as grand as this home in Brisbane, Australia.
This AMAZING home is made from 31 brand new 20'shipping containers (that's correct, thirty-one). It's a one-off custom design by experienced builder Todd Miller of Zeigler Build. The only other similar house in Australia has been built from five containers.
Spanning three levels it features clean lines, open spaces and quality finishes. Glass maximizes natural light and a mix of materials, including the thirty-one containers, cleverly used to industrial chic effect.
There are four bedrooms over two levels. The master takes up the entire upper level, with huge walk-in robes and a private master bathroom with tiled mural wall.
Other cool features include a mezzanine reading room, a pull-out queen wall bed in the games room, an art study, workshop, gym space, water tank and saltwater pool along with outdoor spaces spread throughout to maximize the warm tropical climate.
Todd said it started out as a plan to develop a flood proof family home that was not too expensive, but the result was so outstanding it achieved a starting role in the TV show Grand Designs Australia.
Todd and his wife bought an old rundown house at Graceville, an inner suburb of Brisbane with plans to turn it into their dream home. But the devastating 2011 Brisbane floods inundated the property and according to Todd made the value of what they already owned drop dramatically.
To build something inexpensive and flood proof, Todd started thinking about using shipping containers. The result was a 4,850-sq. ft. contemporary home with the entire lower level designed to be flood proof.
The three-level home is believed to be one of Australia's largest shipping container homes.
As well as the shipping containers Todd used a variety of other recycled materials in the build including two garden planters made from coal mine shakers and a double garage door built with recycled cedar. Todd also used 100-year-old railway sleepers for the timber ramp leading to the garage.
Todd said one of the reasons behind using the shipping containers was budget.
"I can't produce this house at anywhere near the cost with conventional materials,'' he said.
The home was completed in July 2013 and ready for them to move in. The house is incredibly sturdy and comes with a lifetime guarantee from its engineers. Todd say it is also cyclone proof and built to the latest building regulations for flood prone areas. It was the largest container house in Australian when it was built.
They started out with a budget of $300,000 (USD) but as anyone who's build their own home knows, many of these massive projects don't come in on budget or time. Final budget came in at $450,000 (USD) and took 24 weeks to complete.
Todd said that it cost slightly more than expected because they made several design changes during the construction phase including adding a swimming pool, spending $30,000 on landscaping and building an additional bathroom. However, this additional expense proved worthwhile when they sold it in late 2014.
The couple sold the house for just under $1.1m USD. Now that's a nice little profit!
STONE & METAL EFFECT KITCHEN LOOKS...IN 2017?
2017 is shaping up to be an interesting year for many different reasons but Stone & Metal look kitchens? In Europe, the concrete effect was big in 2016 and this year looks like it will be ceramic, copper and bronze, along with stone and metal finishes. One thing is certain, that if you want that 'wow factor' when selling your home this might be the answer!
Combining different materials in a kitchen is perhaps the biggest trend for 2017. Think natural wood, stone, metal, polished concrete, marble. Kitchen sinks are becoming more adventurous and moving away from stainless steel and basic white to materials such as composite granite, cast iron, copper and stone. Metallics such as brass, gold and copper add warmth and continue to be popular; use in taps, door handles, seating and lighting. Polished concrete and solid wooden floors are becoming increasingly popular. Marble, stone and mirror are all on trend options for back splashes.
Metals have taken over interiors in a big way over the last year; From worktops, shelves, tiling to faucets, sinks, and even in furniture. Textured finishes such as these, as well as metals and concrete effects, will be widely available for all areas of the kitchen in 2017. A clever use of different materials can optimize both the kitchen's functionality and its design aesthetic and achieve that WOW factor we all look for.
Check out these examples for inspiration.
HOW ABOUT SMOOTH SHAKER KITCHENS?
Also, looking strong for 2017 is the trusty shaker with a smooth finish. The continued demand for shaker is now moving to a smooth finish. These have a contemporary silky smooth finish rather than a more traditional woodgrain finish. Also, being manufactured from 1 piece of material rather than 5 pieces means there's no joints to see.
Smooth shakers come in 2 types of material. A vinyl or foil wrapped, or painted MDF. The painted MDF type costs a bit more, however, there's no risk of a painted MDF door peeling/de-laminating like there is with a vinyl or foil wrapped door.
Examples of smooth shaker kitchens.
THE CONCRETE JUNGLE NEVER LOOKED SO GOOD
In a sleepy hollow on the surf coast of Victoria Australia, and just next to the famous Bells Beach (the best surf beach in the world, just ask any Aussie), sits a new family home crafted from concrete.
A concreter builds his family's house at Torquay, which gives him a canvas to show how sophisticated this ancient material can be.
This new 4-bedroom family house backs onto wetlands and a golf course but tightly hemmed in on both sides, this concrete house has been designed as a walled sanctuary, opening onto itself and allowing curated views over the wetlands. The street appeal is a balance between public and private with fine timber battening revealing glimpses of the inner life of the house. Entry is via a small portal opening within the concrete facade, leading into a secluded courtyard - an antechamber before the house proper. Upon entry, the house opens up into double height gallery space, glazed on one side to reveal the plan which wraps around a large, protected courtyard that draws northern light and breezes through the house. The oversized circulation spine acts as a breakout space and draws the outside in. Roof gardens on the upper level provide a green aspect to all habitable rooms and give a verdant feel to the central courtyard, with greenery draping off the deep concrete eaves. The material palette is rich and textured, with fine timber battening and brass detailing providing patterning and warmth to counterpoint the mass of the concrete.
"The owner was willing to experiment and wanted to take the material as far as he could," says Kate Fitzpatrick, partner in one of the Surf Coast's most inventive and meticulous architectural practices, Auhaus.
On a site "tightly hemmed on both sides but overlooking a lovely lake and wetlands and the eighth tee of the local golf course", Fitzpatrick and co-director Ben Stibbard "closed the four-bedroom house down from the front and made the rest on a simple plan centred around a north courtyard".
Wrong word: "simple". For on every plane and in every internal space are details and unexpected – but never irrelevant – elements added to everyday materials that invite the eye to explore them. "There are a lot of intricate components that you see after a while," Stibbard says.
Those concrete walls are punctuated and patterned with brass plugs. "It was a nice way to finish them and another place where we could take the opportunity to detail above the standard," he says. "There is a lot of brass detailing."
A very different way of doing things is always on display, from the battened wooden screens that counterpoint the concrete in the blocky front facade (when backlit from the upstairs, Perspex-faced studio, it reveals bracing X-shaped beams), to the steel cross braces sitting proud beneath the hardwood ceiling in the living room (and supporting the concrete floor above).
"That's the beauty of working in residential," Fitzpatrick says. "You can do 'different' and challenge 'the ordinary'."
The rooms are taller than the norm and the bright, open atrium at the core of the house, which features a custom-designed, white steel staircase, makes the whole place a more elevating experience than is credible on a suburban-sized block.
Cut slightly on a tangent to maintain a see-through quality, the risers lead up to the master bedroom suite. This apparently light-weight staircase contrasts with the external spiral stair that leads up to the studio and screened upper garden deck. In the spiral, the self-challenging concreter has made dense, heavy concrete coil as if it were as pliable as plasticine.
Auhaus calls it the Concrete House but that's not the whole story because, as Stibbard explains, there is an alternating application of concrete and timber, both inside and out.
Because concrete has a thermal capacity that can both heat and cool quickly, all the walls are insulated and wherever there is concrete on the outside, there is timber – mostly cedar – on the inside, and vice versa. And the house displays an increasing amount of external timber as it moves from street-front to the rear golf course boundaries.
The concrete-timber interchange, Stibbard says, makes a lot more of each element.
"And we do that in a lot of our houses.
Awards / Media:
Victorian Architecture Awards 2016 - Commendation
Houses Awards 2016 - Shortlist
Green magazine Issue 52: Cover and full article
Photography: Derek Swalwell
Photography styling: Simone Haag